Asbestos surveyors, removalists and assessors are terms you might have come across when reading about work involving asbestos. It could be confusing to know when you will need who. Each of these experts play a specific role during works involving asbestos.
Stage 1: Asbestos Surveyor 
When you have come to a point that you are going to do work that will result in a risk of asbestos exposure the first person you will need is an asbestos surveyor. A surveyor will help you choose the appropriate survey in line with your needs for the project and based on this they will locate and identify asbestos according to the chosen survey, which can be Management, Refurbishment or Demolition. The survey will be designed so it can be used by the removalist to create an asbestos removal control plan (ARCP). The surveyor will also explain to you how the survey fits into the process of managing asbestos.
Make sure the surveyor you choose is competent in the work they do. According to WorkSafe's recommendations, they should at least have a minimum of six months practical experience of carrying out asbestos surveys under the supervision of experienced and suitably qualified personnel and be able to provide evidence that they have completed at least three management reports and at least one pre-demolition survey alongside another more experienced surveyor. Finally, it is strongly recommended that they hold a British Occupational Hygiene Society (BOHS) P402 qualification or equivalent. Do not be afraid to ask this of the surveyor before you start working with them.
Stage 2: Asbestos Removalist 
If asbestos on your property requires removal you will need an asbestos removalist which can either be class A or class B depending on if the asbestos is friable or non-friable. Make sure the removalist you choose holds the appropriate licence with WorkSafe. You can read more about removalists HERE.
Stage 3: Asbestos Assessors 
Asbestos Assessors monitor the quality of air before, during and after asbestos removal to ensure the work environment is safe and that controls are effective. They will tell you immediately if the respirable fibre concentration exceeds 0.01 fibres per millilitre of air. All of the results of air monitoring and any surface testing undertaken will be given to you by the assessor. Assessors also carry out clearance inspections when the asbestos removal work has been completed to ensure that a building or area is safe to reoccupy.
Make sure your assessor fulfils the competency requirements in accordance with WorkSafe. These requirements include holding relevant industry knowledge acquired through training and experience as well as either holding a certificate in relation to an asbestos training course specified by WorkSafe or holding a tertiary qualification in occupational health and safety, occupational hygiene, science or environmental health. When the work involves class A removal work (friable asbestos) the assessor must have an assessor licence issued by WorkSafe.Class B (non-friable) asbestos removal works can be inspected and signed off by a competent person.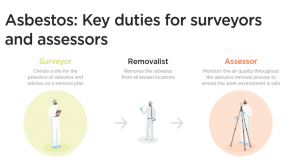 Let us help you 
To book an asbestos survey for your home or building please contact our specialist team today. 
Contact Us Now